On 16 November 2021, Nicholas Vretos presented TeNDER during a webinar organised by PlatformUptake.eu on digital solutions for active and healthy ageing.
The webinar gathered representatives of different stakeholder groups: user advocates, authorities (public health projects) and facilitators, open platform providers, Active and Assistive Living (AAL)/Active and Healthy Ageing (AHA) solution providers, and partners in EU projects working on open platforms and AAL/AHA solutions.
Frederic Lievens and Alexander Nikolov from PlatformUptake.eu introduced and moderated the webinar and discussions, which kicked off with a conversation on identifying needs and requirements, specifically in the context of AHA. This first conversation integrated the perspectives of users, as well as authorities (a representative from the municipality of Aarhus) and facilitators (an innovation lab in The Netherlands).
This was followed by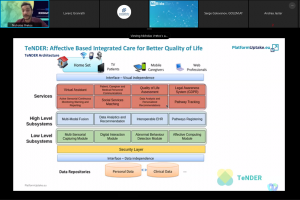 presentations that showcased the state-of-art in the AAL/AHA solutions, which then led to current developments in Europe and Japan (in collaboration with European researchers), funded by the European Union's Framework for Research and Innovation (Horizon 2020). During this session, Dr. Vretos presented TeNDER's integrated care system, focusing on the technical innovations and on the strategic steps the project is taking to overcome adoption barriers. Some of these steps include: continuous user co-creation, consistent legal and ethical monitoring and assessment, and person-to-person support for elderly users with low digital literacy.
This exchange of ideas and best practices, as well as the potential networking opportunities, were facilitated by PlatformUptake.eu in the framework of inter-project collaboration.